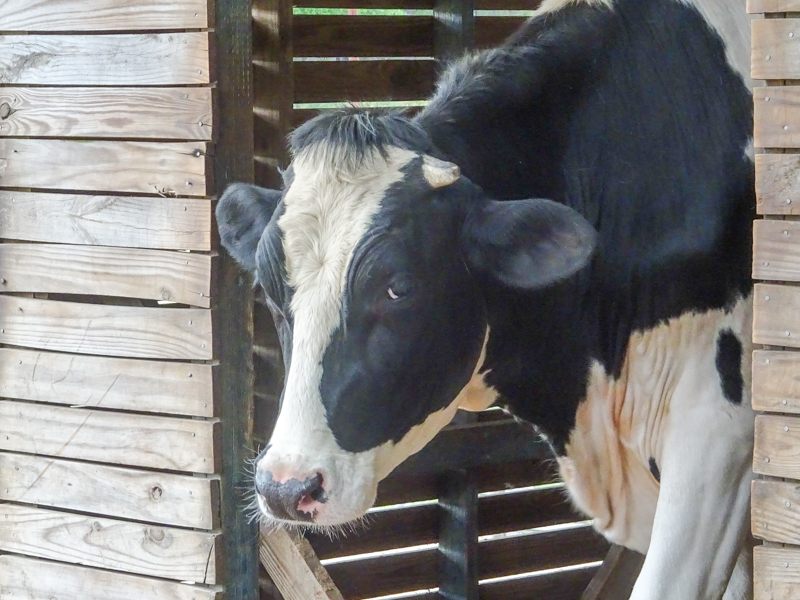 I just spent 3 days volunteering at the Cotton Branch Farm Animal Sanctuary in South Carolina.  When visiting Charleston, I saw a meetup posted for a volunteer workday at the sanctuary, but that day was not the best for my plans, and so I called to see if they could use me earlier.
Law Ra (Laura) answered the phone.  Law Ra is German, with a slight British accent, probably from living in London so long.  Like I was soon to be, she is a temporary volunteer at the sanctuary. But unlike me, she knows what she is doing when it comes to animal care.  And she's there much longer.

I Arrive
The washboard road coming into the sanctuary is better than the massage chairs at Planet Fitness, so I was  dreamily relaxed when I got there,  When I pulled up beside the house and noticed Law Ra sitting on the front porch, she was waving enthusiastically like I was a long lost cousin.
She had finished the morning feeding, so she made the time to give me a tour of the place and tell me names of some of the non-human residents.
About the Sanctuary
The sanctuary provides a home to rescued animals that are not dogs, cats, or wild animals.  These animals had previously been neglected,  abandoned, or were going to be killed because they were not profitable.
The dedicated volunteers there love these animals just as you love your dog or cat.  There is no difference really.
The Work
One of the important tasks is just to give the residents some loving attention.  The pigs love to be rubbed, and will often turn over on there sides so you can get to their bellies.  The donkeys and horses enjoy a good rub or brushing and will come up right next to you and stand in position waiting for you to oblige them.
And Freckles the bovine will nudge you with his powerful head until you pay him some attention.  I don't think he realizes how powerful his neck and head are. It's almost impossible to stand your ground when he decides to nudge you.
Not once did a goat charge me.  Although they are a little shy compared to the donkeys, horses and bovine, once they get to know you they are very approachable.  The sheep are the most shy.
I spent most of my working time shoveling what needed to be shoveled.  That would be hay, and you can use the process of elimination to figure out what else.  The process of elimination is widely used on the grounds, and provides tons, literally, of volunteer opportunities.
There are other tasks to be done, but I actually preferred shoveling in the pastures and pens.  That's because it gave me more time to get to know the residents.
The Experience
In additon to Law Ra, I had the pleasure of meeting a few other humans:  Wayne, Briana, Josh, Evan, and Ashley — a group of truly dedicated people.  Visit the web site to see how you can help.
I'd love to go into more detail about each of the animals and their unique personalities if I had the time.   The visit was a very rewarding experience, and will provide plenty of great memories for years to come.  I wish everyone could experience these farm animals and see that they are their own creatures as are we.  They all have a will to live.  And just like us, and just like the dogs and cats we care for, they don't want to be mutilated, enslaved, slaughtered and eaten.
The Pictures
Here are some 50+ pictures for your enjoyment: